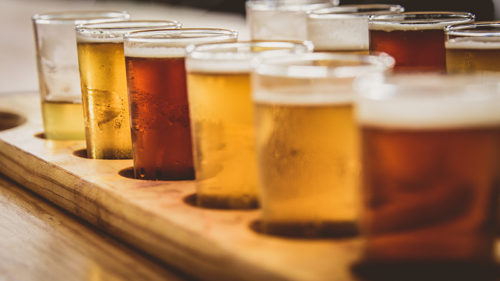 Owners Andrew and Michelle Mohsenzadegan opened Flatland Brewing Company in January 2016.The brewery began as a one barrel brewhouse and modest tasting room - all founded on a home brewer's humble roots, a big dream, and a shoestring budget. The brewery quickly grew to a three barrel system, and in 2020 upgraded to a 10 barrel official brewhouse. Flatland now has the capacity to brew 2000 barrels per year.
in addition to stainless steel fermentation capacity, flatland also has a love of sour beer, evident with 24 dedicated barrels to the sour program. innovation and creativity are what drives the sour program - the pride and joy that owner and head brewer andrew hopes to take far in the near future.
flatland brewing company is proud to have been the recipient of 2017 best in show award at the california state fair. the love of beer, any style, is something that we are happy to share with our guests.
come visit us in the tasting room, where you're bound to get a personal story, brewery tour, tasting sessions, or even a sample straight from the tank. we take pride in having a business in the community in which friends, families, pets, and craft beer lovers can come together.
Small batch, huge impact. Local Elk Grove brewery and tasting room. Beer made with passion. As we like to say, "be social, drink local."
ADDRESS
Flatland Brewing Company
9183 Survey Rd. #104
Elk Grove, California 95624
SHARE
FEATURES